Cooney Brothers Launches New Website
Posted on Wednesday, Apr 21, 2021 in News
Cooney Brothers Launch Second Generation Ecommerce Website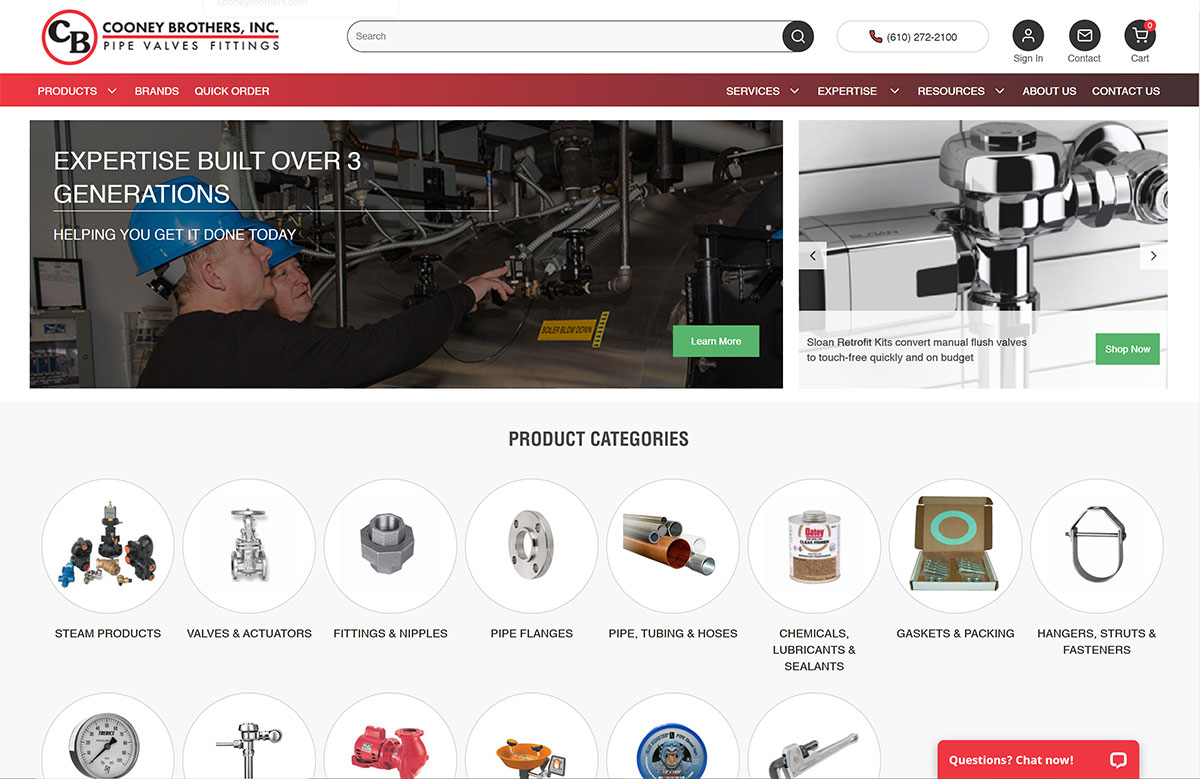 Cooney Brothers unveiled a completely redesigned website with full ecommerce integration, featuring online ordering, account management, enhanced search and navigation, and time-saving features.

What It's All About
"As our ecommerce efforts grow, it is as much about how our customers get information as it is about processing orders.  This new platform improves the ability of our customers to get the information they need, at anytime, in a way that is fast and easy" ~Jake Fegely, COO
New and Improved Website Features
Streamlined Checkout: The number of steps has been reduced from 5 down to 2.  Plus now see prepaid rates for both UPS and FedEx, as well as select saved credit cards by a name you set.

Expanded Order tracking and delivery: See signature confirmations on invoices from Cooney Truck orders, as well as links to both UPS and FedEx tracking numbers. 

Order History Improvements: View ALL bids, open orders, and invoices together, and filter by products purchased, PO#, Sales Order#, date range, order amount, and ship to location.  

Improved Quick Order: Search for and add items quickly using a simple interface, or upload a spreadsheet using our part numbers or yours. 

Expanded User Roles including Budgeting: Five user roles are offered: Administrator, buyer with no budget, buyer with a budget, buyers requiring approval, and requisitions only. Create and assign budgets to your company, specific buyers, or to ship to locations. 

Optimized internal site search: See autocomplete suggestions for categories, content, and products with images to reduce the number of user clicks to navigate the site. 

Filters to easily narrow down products by key attributes and brand. 

Expanded product offering: See real time pricing and availability and in depth product information including specification sheets, product manuals, parts lists, and videos on 30,000 items.

New easy-to-use design: Developed to ensure visitors are provided a "user-friendly" experience across all digital devices, including desktop, tablet and mobile.
How to Register
Existing Users: If you were a registered user on our old website, simply reset your password to activate your account. This can be done from the 

Sign In page

 or from the 

Activate Account page.

New Users: If you are new to using our website, you can register as a customer on the 

Create Account Page

.

If your company has an account with Cooney Brothers, you should register a an existing customer by selecting the "Yes - I am an existing customer..." bullet option. Note, you will need to you know Bill To account number. 

Contact us

 if you are unsure what that is.

If your company is brand new to Cooney Brothers, you should register as a new customer by selecting the "No - I am a new customer..." bullet option.