Full-Service Fabrication Shop
Custom Fabricated Piping Products
We've mastered full-service fabrication. At Cooney Brothers, we maintain a full service fabrication shop that offers custom engineering of specialty products, piping components, and other accessories. These services include:
Quality corrugated flexible hose assemblies, spool pieces, manifolds, headers, vented receivers and much more, built to customer specs.
Full service pipe cutting, grooving and threading capabilities.
Cut pipe and make nipples to any specification.
Cooney Brothers builds the following custom fabricated products in house: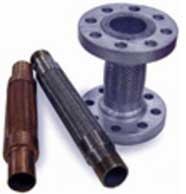 Custom Hoses

, including pump connectors, vibration eliminators, or general purpose flex hoses

Diameters from 1/4" through 12"

Produced in bronze and stainless steel to the exact required length

Any end configurations, including: flanged, threaded, socket weld, butt weld, union, swivel, cam and groove, and copper sweat

Duplex assemblies for steam jacketing
Custom Spool Pieces built to your exact specs
Manifolds and Headers, custom made in virtually any configuration
Vented Receivers or tanks used for storage of various fluids (typical requirements are for carbon steel "Pipe Receivers," for use with non-electric and electric condensate return pumps

Other miscellaneous welding requirements
✔ CASE STUDY
A major university had to replace Fire Department Connection (FDC) signs at over 100 buildings around campus. Cooney worked with Accuform to design and produce custom glow-in-the-dark signs, each one with the building name, address, and a unique sequential number. The number was recorded by Campus Security and the local Fire Department. Cooney completed the solution by designing a custom post-mounting assembly that was produced in our in-house Fabrication Shop.