Viega Discontinues ProPress 304
On February 14, 2022, Viega announced it would be discontinuing ProPress 304 Tubing and Fittings:
"Viega is discontinuing ProPress 304 products, effective April 1, 2022. Continue placing orders while supplies last. Viega will accept returns until the effective discontinuation date.  Viega's MegaPress 304 product line can serve as an alternative to meet all the same applications." 
In response, Cooney Brothers will be increasing inventory of ProPress 316 products, as well as additional MegaPress Stainless products. 
Cooney Brothers is committed to supporting our customers currently using ProPress 304 products, reviewing application requirements, and working to transition to the system that best meets their needs. 
What options are available to replace ProPress 304?
Depending on your specific requirements, the best available options are ProPress 316 or MegaPress Stainless, which includes MegaPress 304 FKM, MegaPress 316, and MegaPress 316 FKM.
You can review Viega's Approved Application Guide for additional information on product line, material and sealing element application compatibility. 
What is the difference between ProPress 304 vs ProPress 316?
Most notably, the difference between the products is the material. ProPress 304 is made with 304 Stainless Steel, while ProPress 316 is made with 316 Stainless Steel. 
Additionally, each product uses a different seal.  The seal used on ProPress 304 fittings is made from FKM, while the seal used on ProPress 316 fittings is made from EPDM. You can differentiate the two products in the field by the color of the dot. A white dot denotes Propress 304 with a FKM seal, while a green dot denotes ProPress 316 with an EPDM seal.
You may have noticed that within Viega's documentation, ProPress 316 is shown with both EPDM and FKM seals. Essentially, ProPress 316 is manufactured with an EPDM seal. End user can purchase FKM seals separately and replace the original EPDM seals, should their application call for the change. 
Explore Available ProPress 304 Replacements: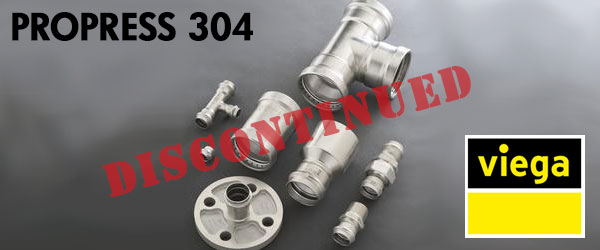 Contact the product experts at Cooney Brothers, an authorized Viega distributor, for replacement parts or more information using one of the convenient options or form below.