Viega ProPressG (PPG) fittings and valves for gas has been discontinued
July 1, 2019, a message from Viega Product Management: "Effective immediately, ProPressG (PPG) fittings and valves for gas applications will no longer be available for sale. This decision is based on changes in test methodology for CSA 6.32 / ANSI LC-4 - Press-connect metallic fittings for use in fuel gas distribution systems and affects fittings and valves in section 1.2 of the 2019 Viega Product Guide.
Viega LLC (Viega) will continue to stand behind our installed products in the field and their existing warranties. We recommend MegaPressG (MPG) fittings as an alternative for most PPG applications. MPG offers nearly twice as many component configurations as PPG, with additional product offerings available soon. Note that MPG is a carbon steel IPS system."
Contact the product experts at Cooney Brothers, an authorized Viega distributor, for replacement parts or more information using one of the convenient options or form below.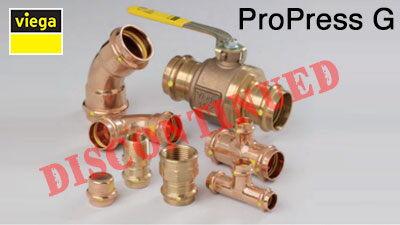 Some of the discontinued ProPress G items have suitable MegaPress G crosses. Please click on the fitting section below to check if the part you are looking for has a suitable alternative.
Please note, while Viega recommends the following MegaPress G fittings as alternatives for most PPG applications, the MegaPress G fittings are for use with Carbon Steel IPS systems and are not direct replacements for the Copper ProPress G items.
| PROPRESSG | MEGAPRESSG | DESCRIPTION |
| --- | --- | --- |
| 16043 | N/A | Press: 1/2 in, MPT 3/8 in |
| 16048 | 25101 | Press: 1/2 in, MPT 1/2 in |
| 16053 | 25106 | Press: 3/4 in, MPT 3/4 in |
| 16058 | 25111 | Press: 1 in, MPT 1 in |
| 16063 | 25116 | Press: 1-1/4 in, MPT 1-1/4 in |
| 16068 | 25121 | Press: 1-1/2 in, MPT 1-1/2 in |
| 16073 | 25126 | Press: 2 in, MPT 2 in |
| 16078 | 25131 | Press: 1/2 in, FPT 1/2 in |
| 16088 | 25136 | Press: 3/4 in, FPT  3/4 in |
| 16093 | 25141 | Press: 1 in, FPT 1 in |
| 23358 | 25146 | Press: 1-1/4 in, FPT 1-1/4 in |
| 23363 | 25151 | Press: 1-1/2 in, FPT 1-1/2 in |
| 23368 | 25156 | Press: 2 in, FPT 2 in |
| 23373 | N/A | Press: 1/2 in, FPT 3/8 in |






| PROPRESSG | MEGAPRESSG | DESCRIPTION |
| --- | --- | --- |
| 16098 | 25001 | Press: 1/2 in x Press 1/2 in |
| 16103 | 25009 | Press: 3/4 in x Press 3/4 in |
| 16108 | 25011 | Press 1 in x Press 1 in |
| 16113 | 25016 | Press: 1-1/4 in x Press 1-1/4 in |
| 16118 | 25021 | Press: 1-1/2 in x Press 1-1/2 in |
| 16123 | 25026 | Press: 1-1/2 in, MPT 1-1/2 in |






| PROPRESSG | MEGAPRESSG | DESCRIPTION |
| --- | --- | --- |
| 25931 | 25001 | Press: 3/4 in x Press 1/2 in |
| 23278 | 25936 | Press: 1 in x Press 1/2 in |
| 23283 | 25941 | Press 1 in x Press 3/4 in |
| 23288 | 25951 | Press: 1-1/4 in x Press 1 in |
| 23293 | 25946 | Press: 1-1/4 in x Press 3/4 in |
| 23298 | 25956 | Press 1-1/2 in x Press 1-1/4 in |
| 23303 | N/A | Press: 1-1/2 in x Press 1 in |
| 23303 | 25966 | Press 2 in x Press 1-1/2 in |






| PROPRESSG | MEGAPRESSG | DESCRIPTION |
| --- | --- | --- |
| 16128 | 25201 | Press: 1/2 in x Press 1/2 in |
| 16733 | 25206 | Press: 3/4 in x Press 3/4 in |
| 16738 | 25211 | Press 1 in x Press 1 in |
| 16743 | 25216 | Press: 1-1/4 in x Press 1-1/4 in |
| 16748 | 25956 | Press: 1-1/2 in x Press 1-1/2 in |
| 16753 | 25226 | Press 2 in x Press 2 in |






| PROPRESSG | MEGAPRESSG | DESCRIPTION |
| --- | --- | --- |
| 16158 | 26051 | Press: 1/2 in x FTG 1/2 in |
| 16763 | 26056 | Press: 3/4 in x FTG 3/4 in |
| 16768 | 26061 | Press 1 in x FTG 1 in |
| 16173 | 26066 | Press: 1-1/4 in x FTG 1-1/4 in |
| 16178 | 26071 | Press: 1-1/2 in x FTG 1-1/2 in |
| 16183 | 26076 | Press 2 in x FTG 2 in |






| PROPRESSG | MEGAPRESSG | DESCRIPTION |
| --- | --- | --- |
| 16188 | 25231 | Press: 1/2 in x Press 1/2 in |
| 16793 | 25236 | Press: 3/4 in x Press 3/4 in |
| 16798 | 25241 | Press 1 in x Press 1 in |
| 16803 | 25246 | Press: 1-1/4 in x Press 1-1/4 in |
| 16808 | 25251 | Press: 1-1/2 in x Press 1-1/2 in |
| 16813 | 25256 | Press 2 in x Press 2 in |






| PROPRESSG | MEGAPRESSG | DESCRIPTION |
| --- | --- | --- |
| 17598 | N/A | Press: 1/2 in x Press 1/2 in |
| 17603 | N/A | Press: 3/4 in x Press 3/4 in |
| 17608 | N/A | Press 1 in x Press 1 in |
| 17613 | N/A | Press: 1-1/4 in x Press 1-1/4 in |
| 17618 | N/A | Press: 1-1/2 in x Press 1-1/2 in |



| PROPRESSG | MEGAPRESSG | DESCRIPTION |
| --- | --- | --- |
| 16313 | 25731 | Press: 1/2 in |
| 16318 | 25736 | Press: 3/4 in |
| 16323 | 25741 | Press 1 in |
| 16328 | 25746 | Press: 1-1/4 in |
| 16333 | 25751 | Press: 1-1/2 in |
| 16338 | 25756 | Press: 2 in |



| PROPRESSG | MEGAPRESSG | DESCRIPTION |
| --- | --- | --- |
| 19648 | N/A | Press: 1/2 in x Press 1/2 in |
| 19653 | N/A | Press: 3/4 in x Press 3/4 in |
| 19658 | N/A | Press 1 in x Press 1 in |
| 19663 | N/A | Press: 1-1/4 in x Press 1-1/4 in |
| 19668 | N/A | Press: 1-1/2 in x Press 1-1/2 in |
| 19673 | N/A | Press 2 in x Press 2 in |



| PROPRESSG | MEGAPRESSG | DESCRIPTION |
| --- | --- | --- |
| 16248 | 25301 | Press: 1/2 in x 1/2 in x 1/2 in |
| 16253 | 25301 | Press: 3/4 in x 3/4 in x 3/4 in |
| 16258 | 25331 | Press: 3/4 in x 3/4 in x 1/2 in |
| 16263 | 25311 | Press 1 in x 1 in x 1 in |
| 16268 | N/A | Press: 1 in x 3/4 in x 3/4 in |
| 16273 | 25341 | Press 1 in x 1 in x 3/4 in |
| 16278 | 25316 | Press: 1-1/4 in x 1-1/4 in x 1-1/4 in |
| 16283 | 25351 | Press: 1-1/4 in x 1-1/4 in x 1 in |
| 16288 | 25321 | Press: 1-1/2 in x 1-1/2 in x 1-1/2 in |
| 16293 | 25371 | Press: 1-1/2 in x 1-1/2 in x 1 in |
| 16298 | 25376 | Press: 1-1/2 in x 1-1/2 in x 1-1/4 in |
| 16303 | 25326 | Press 2 in x 2 in x 2 in |
| 16308 | 25401 | Press 2 in x 2 in x 1-1/2 in |
| 17688 | 25336 | Press 1 in x 1 in x 1/2 in |
| 23333 | N/A | Press 1 in x 3/4 in x 1/2 in |
| 23348 | 25366 | Press 1-1/2 in x 1-1/2 in x 3/4 in |
| 23353 | 25386 | Press 2 in x 2 in x 3/4 in |