Top 5 Considerations when Replacing Manual Faucets with Touch-free Sensor Faucets
Posted on Tuesday, May 19, 2020 in PVFundamentals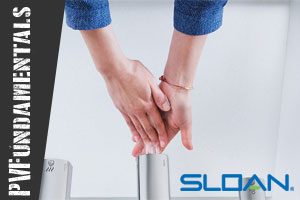 Guide to Converting to Touchless Faucets
In today's safety-conscious environment, providing touch-free technology is essential to protecting every person who enters your facility, from essential personnel and employees returning to work, to customers, patients and guests. Sloan, a major manufacturer of quality commercial plumbing products offers a wide variety of touchless, sensor-activated faucets. Do you know what information is important to know in order to select the best faucets for your facility? Here, we walk you through the top 5 things to consider when replacing your manual faucets with automatic touch-free sensor faucets.
Touchless Faucet Conversion Consideration 1: Mounting Type and Location
First, will you be mounting the new faucets on the wall or on deck? With wall-mounted faucets, you will need to note the wall thickness and chase depth. With deck-mounted faucets, is there a single hole, 4" center-set holes, or 8" center set holes? Also, be sure to take note of the deck thickness.
Next, where would you like your power to be, above deck or below deck? There are some tradeoffs with each selection. Above deck controls allow for easier access during installation and maintenance, however, these faucets tend to be bigger and bulkier in order to accommodate batteries. While below deck options can be sleek, as batteries are hidden below the counter-top, installation and maintenance then requires workers to be on their hands and knees.
To select the correct size faucet, consider the sink type and size. Consider the basin type (scrub, pedestal, shroud, vessel), size (small, medium, large), depth, faucet mounting setback, mirrors, and shelves. You could end up with a mess on your hands (and floor) if your faucet doesn't reach the sink basin!
Does your setup require a single line or dual line for temperature mixing? Common below deck options include manual or thermostatic mixing valves, and above deck options include integrated with side mixing valve (ISM) and integrated thermostatic mixing valve (ITM.)

Touchless Faucet Conversion Consideration 2: Facility Type and Overall Usage
When changing out manual faucets to touchless, sensor-activated faucets, consider the location and overall usage. Are you installing these faucets in a public place or private facility?
When installing faucets in public facilities, consider using low to mid height faucets to prevent splashing and slip and fall liability, and models with integrated bases for vandal resistance. A flow rate of 0.5 gpm, with 30 second timeout is ideal.
When the faucets are for use in private facilities, gooseneck models with higher flow rates, line flush and laminar sprays are ideal for surgical scrub and healthcare applications. Gooseneck models and high-body faucets are ideal for industrial oil and grease removal.
Also determine frequency of use:
High Frequency Use

 is typically 250 or more activations per day. Heavy transient populations occur in Airports, Stadiums, Arenas, Schools, and similar facilities. Consider low to mid height to prevent splashing and slip and fall liability, with Hardwired or Hybrid Energy Harvesting to reduce battery use, and Integrated bases to reduce vandalism.

Low Frequency Use is typically 250 or less activations per day, and can be found in facilities such as Office Buildings, Retail, Churches, Food Service. It is important to consider Line Flush in low frequency usage situations to avoid stagnant water in supply lines. Best application of very low flow rates.
Intermittent Use is when there are occasional inactive periods, with large swings from high to low usage. This can be found in seasonal industries such as baseball stadiums. It is important to consider Line Flush in these situations to avoid stagnant water in supply lines and dry p-traps (sewer gas release.) Low to mid height faucets prevent splashing and slip and fall liability.

Touchless Faucet Conversion Consideration 3: Flow Rate and Spray Type
Your application needs will also affect your faucet selection with flow rate, spray type and sensor type.
Flow rates

 are available from 0.35 gpm to 2.2 gpm.

Sloan sensor-activated faucets are available in four spray types: Multi-laminar, laminar, aerated (not for healthcare) and shower head.
Sensor type: Infrared or capacitance. Infrared Sensor detect the reflection of infrared light when a valid "target" is within range, which can be adjusted. Capacitance (Proximity) sensors detect the electrical field surrounding a valid "target" when within range, which can be adjusted. This type cannot be used on metal sinks, including enamel coated cast iron sinks, or near large metal objects.
Touchless Faucet Conversion Consideration 4: Power Supply
There are several options for how the faucets are powered. Depending on the availability of electric, your choices may be limited.
Battery

. This option is best for retrofits or where hardwired installations are not possible.

Hardwired with battery back-up. This option is ideal for new construction because it eliminates regular use of disposable batteries.
Solar energy harvesting with battery backup. Ideal for low to moderate usage installations, this power source is generated from ambient light and extends battery life by up to 10 years.
Turbine energy harvesting with battery backup. Ideal for moderate to high usage applications, this type of power uses energy generated from the moving water to extend the life of batteries up to 10 years.
Touchless Faucet Conversion Consideration 5: Cost
Sloan offers three distinctive lines of sensor faucets, something for every budget.
Basys

 is Sloan's top of the line faucet series. With groundbreaking design, the Basys line offers multiple body types, sensing technologies, interchangeable components and power choices.

Optima series is reliable and built to last. The world's most widely installed sensor faucets with many styles and features, including newly enhanced control box and smartphone app for blue tooth enabled models

.

Sloan series faucets are dependable products for cost-driven sensor faucet applications.
Your budget now shouldn't be the only cost you consider. Installation and future maintenance costs should play a role in which faucet to choose, as they can affect the lifetime cost of ownership. When making your selection, factor in things like installation time, post-installation service and maintenance time, and the accessibility of replacement parts and post-installation spares.
Need help selecting the right touchless faucet for your facility? Contact the experts at Cooney Brothers. As a Sloan authorized distributor, we can assist with product selection. Cooney Brothers stocks a wide variety of Sloan Faucets and replacement parts. Shop Sloan Touchless Faucets on our website or contact us for more information or a personalized quote.