Troubleshooting Spirax Sarco BRV2S Series PRVs
Posted on Friday, Jun 25, 2021 in PVFundamentals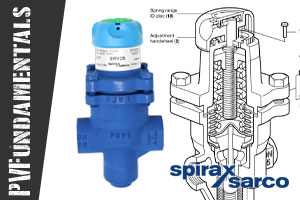 Guide to Troubleshooting Spirax Sarco BRV2S Valves
Utilizing Steam in your plant is very cost efficient, however if the parts processing the steam aren't operating to their optimal capacity, you could be losing money. But how do you know which products are causing an issue?
If you are having issues with a Spirax Sarco BRV2S Series Pressure Reducing Valve, below we will guide you through troubleshooting the four most common failure systems, which can be found in Spirax Sarco BRV2 Installation and Maintenance Instructions for their BRV2 Range of Pressure Reducing Valves. *Please note: before investigating any problems, ensure that both upstream and downstream isolating valves are shut off and that the BRV2S valve is vented.
BRV2S PRESSURE REDUCING VALVE FAILURE SYMPTOM 1: DOWNSTREAM PRESSURE INCREASES ABOVE SET PRESSURE
If the downstream pressure is too high, there may be an issue with the Bellows - either failure or leakage. If this is the case, replace the bellows set and also check that the valve is not subject to rapid oscillation as this could be causing bellows fatigue failure. Also, check that the bellows is not subject to corrosive attacks, for example chloride contamination with a BRV2SP valve or halide contamination with a BRV2BP valve.

Damage or erosion to valve seat can also cause downstream pressure to increase above the set pressure. To fix, simply replace valve and seat assembly.

The third most common cause of high downstream pressure is the presence of excessive dirt and/or scale build up on seat and head, which blocks the pressure sensing orifice and/or causes the push rod to stick. To fix, simply replace valve and seat assembly.

BRV2S PRESSURE REDUCING VALVE FAILURE SYMPTOM 2: DOWNSTREAM PRESSURE IS BELOW SET PRESSURE UNDER FULL LOAD CONDITIONS
There are two main causes for the Spirax Sarco BRV2S downstream pressure to fall below the set pressure under full load conditions:
If your valve was set at 'No-load', that could result in your downstream pressure being lower than your set pressure under full load conditions. To fix, reset at full load (Refer to the start-up and adjustment found in Section 3 of Spirax Sarco BRV2S Installation and Maintenance Instructions)
The second most common reason you may experience low pressure downstream under full load is that the valve is undersized for the required duty. Check the maximum installed load and valve size selected and installed.
BRV2S PRESSURE REDUCING VALVE FAILURE SYMPTOM 3: ADJUSTMENT KNOB WILL NOT TURN
If the adjustment knob will not turn, the tamper-proof pin may be preventing adjustment. To fix, simply remove the pin from the cap.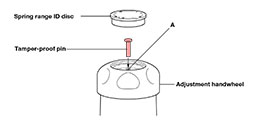 BRV2S PRESSURE REDUCING VALVE FAILURE SYMPTOM 4: HUNTING/UNSTABLE CONTROL
There are three main reasons you may experience hunting or unstable control with your Spirax Sarco BRV2 Valve:
Wet steam could be the reason you are experiencing unstable control. To resolve, ensure lines are properly trapped, and install a

separator

if necessary.

Did you know externally transmitted signals could be the cause of your hunting issue? Check the proximity of the valve to other associated control equipment e.g. on/off valves.
The third reason you may be experiencing hunting is due to a stuck push rod from dirt and scale build up. To fix, replace the valve and seat assembly.