NEW from RIDGID StrutSlayr: Strut Shear Head for Press Tools
Posted on Wednesday, Nov 11, 2020 in News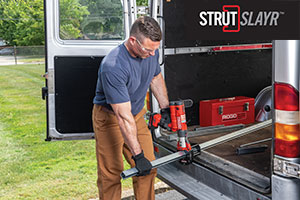 Our Comprehensive Guide to RIDGID StrutSlyr
RIDGID® recently introduced a new product for cutting struts: RIDGID StrutSlayr™. This accessory, which attaches to most RIDGID 32kN Press Tools, gives professional contractors a new tool to get jobs done faster and with fabrication-shop quality results.
With the press of the trigger, this new head shears up to 12 gauge steel struts in five seconds or less, without chips and fewer sparks. Due to its compact design and light weight, it is extremely portable, making it easy to transport to, from, and around jobsites.
Features and Benefits of RIDGID StrutSlayr
Fab Shop Quality:

 Burr-free cuts eliminate the need for extra filing

Increased Efficiency: Creates clean, consistent cuts in 5 seconds or less. No time wasted changing blades.
Safe Operation: Minimal sparking versus grinders and chop saws
Portable: It is easy to move around the job site and mounts to

RIDGID TRISTANDs

, weighing only 12 lbs (including dies, excluding press tool)
Built-in Measuring Guide: allows accuracy of cuts on job site
Cutting Capability: Delivers clean cuts on up to 12ga mild steel struts channels sized 1-5/8" x 1-5/8" and 1-5/8" x 13/16" (MFMA-4 Standard). Not for use with Stainless Steel strut.
Compatible with RIDGID 32kN press tools, including the

RP 350 Press Tool

, RP 340 Press Tool, and RP330 Press Tool. Note, this product is NOT for use with RIDGID 320-E or CT-400 press tools.
Available Shearing Dies (sold individually or as a combo set): 1-5/8" x 1-5/8" and 1-5/8" x 13/16"
RIDGID StrutSlayr Ordering Information
Cooney Brothers is a RIDGID authorized distributor. As a large stocking distributor, we carry a wide range of RIDGID Tools including Pipe Wrenches, Drain Cleaning Equipment, Pipe Threading tools, and more. Please contact us with any questions.