Cooney Brothers raises nearly $5000 for American Cancer Society
Posted on Friday, Oct 15, 2021 in News

Team Cooney Marks 18th Bike-A-Thon
Team Cooney marked their 18th year riding in the 49th Annual American Cancer Society Bike-A-Thon on September 19th, 2021. 
Fundraising Success
Over 100 employees, customers, vendors, family, and friends donated.

Together "Team Cooney" raised $4,673 for the American Cancer Society. 
Team Cooney Riders
"Team Cooney" included 8 riders. Each rode their full committed distances.
Team Captain: Gerry Cooney
Riders: Bill Cooney, Matt Gdowik, Janelle Cooney, Bob Cooney, Andrew Dunberg, Jim Chapman, and Patrick White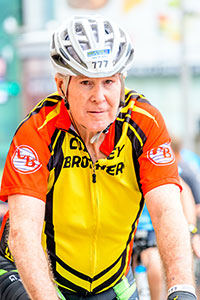 In Memory of Patrick White
1951 - 2021
Patrick White, a cancer survivor and a long-time Bike-A-Thon participant as a member of Team Cooney, was tragically killed on Thursday, September 23, 2021 while on his early morning bicycle ride. According to the Bicycle Coalition, he is the sixth bicyclist killed in Philadelphia this year.

Pat was born and raised in Philadelphia. He graduated LaSalle College High School, class of 1969, Indiana University of Pennsylvania with BA and MA degrees, and Pennsylvania Straight Chiropractic as a doctor of chiropractic, according to his obituary. Pat truly found his calling as a chiropractor, where he was able to do what he loved and formed many long-time friendships. Nothing made him feel better than to help his patients, mind, body, and soul.

Pat rode his bicycle every morning for over 30 years, and for the past 13 years he participated in multiple rides for charities. On Sunday the 19th, just four days before his passing, he rode in his last American Cancer Society Bike-A-Thon ride to the Jersey Shore. Riding his bicycle was a perfect way to start his day, and he resumed his rides as soon as he was healthy enough in his recovery from cancer.

Of Pat, team captain Gerry Cooney remembered, "It was through the Bike-A-Thon that we met Pat. He touched many lives, including a new team rider who just met Pat for the first time on 9/19. That rider helped Pat change a flat tire, and they became friends. Pat was diagnosed with cancer after he'd already ridden in the Bike-A-Thon for several years. He fought his battle with cancer and continued to participate in the Ride without missing a beat."

Rest in peace, Pat.