Dixon Sanitary BC/BP Series Centrifugal Pumps
Centrifugal pumps are mechanical devices designed to move fluids via rotational energy generated from one or more driven rotors called impellers. Centrifugal pumps typically are used for lower viscosity liquids and for higher flow rates than positive displacement pumps.
Dixon Sanitary BC/BP series of Centrifugal Pumps can be fitted with a variety of features and options to ensure the best performance of your specific application.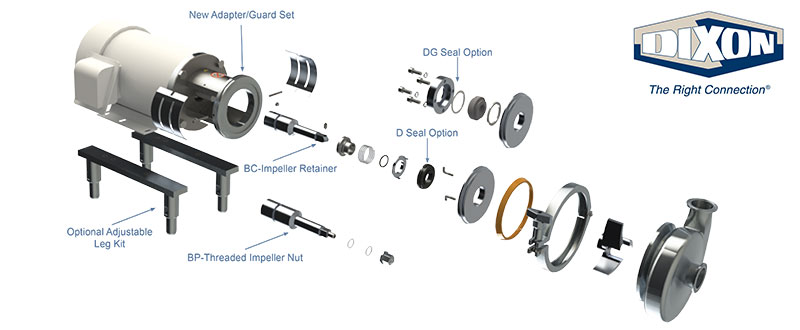 Applications:
- Pump over
- Transfer
- Tank cleaning
Sizes:
- Inlet 1-1/2 in to 6 in
- Outlet 1-1/2 in to 4 in
Materials:
- 316L
- Buna, EPDM, Silicone, and FKM elastomers
Features:
- Impeller retainer or threaded impeller nut options
- Stamped Volute
- Wet ends, motor pump units and carts
- 3A and CIPable

Cooney Brothers is proud to be an authorized distributor for Dixon. Through our partnership, you get personalized service and long-term support on all Dixon products.
| MODEL | INLET | OUTLET | MAX IMPELLER |
| --- | --- | --- | --- |
| BC114 | 1-1/2 in or 2 in | 1-1/2 in | 4 in |
| BC216 | 2 in or 2-1/2 in | 1-1/2 in | 6 in |
| BC218 | 2 in or 3 in | 1-1/2 in | 8 in |
| BC328 | 3 in or 4 in | 2 in | 8 in |
| BC441 | 4 in or 6 in | 4 in | 10 in |
Standard Construction:

- Casing: 316L stainless steel
- Impeller: CF8M (316) stainless steel
- Backplate: 316L stainless steel
- Stub Shaft: 316L stainless steel
- Adapter: 304 stainless steel
- Optional Leg Kit: 304 stainless steel
- Seal Types: externally balanced 'D', 'DG' and 'F' with clamped in seat
- Rotary Seal Material: carbon and silicon carbide
- 'DG' Seal Seat Material: silicon carbide, ceramic and tungsten carbide
- Elastomers: Buna, EPDM, silicone and FKM
- Finish: sanitary polish 32RA

Performance Characteristics:

- Nominal Capacity: up to 1200 GPM
- Temperature: 32°F to 212°F, consult Dixon Sanitary for other temperatures
- Nominal speed: up to 3500 RPM - 60 Hz

Motors and Mounting:

- Motor: standard C-face, 1750 and 3450 RPM, TENV/TEFC and washdown, foot mounted
- Additional motor types available upon request
- Mounting: pump head mounted to a C-Face motor
Features:

- Elastomer options: Buna, EPDM, Silicone and FKM
- Seal options: externally balanced "D" seal, "DG" seal with clamped in seat or externally balanced "F" flush seal. "D" seal is suitable for sanitary and industrial applications where fluid is non-abrasive and lubricating; optional silicon carbide with carbon rotating element on stationary stainless steel. "DG" seal is suitable for the majority of sanitary applications, including those using non-lubricating and abrasive fluids; choose from ceramic, silicon carbide and tungsten carbide as the stationary seal, carbon rotating element on encapsulated seat; optional silicon rotating element is available. "F" seal is for use when normal "D" seal applications include product temperatures that reach 212°F (100°C) or when fluid is sticky or tacky; externally balanced D or DG Seal with water cascade.
- Impeller options BC- Impeller Retainer or BP- Threaded Nut
- Motor Enclosures: TEFC, White Epoxy Washdown and SS Washdown
- Optional Casing Drain
- Dixon now offers pump carts as an added option to all pumps. There are two standard model sizes and others are available upon request. Carts can be ordered with countless options and customized to your specifications.
BC/BP Centrifugal Pump Features
Casing is stamped, not cast, for lighter weight and less porosity.
F Seal = cascade flash option for D or DG seal
Hydraulically, dimensionally and parts interchangeability with other C-Series pumps.
Adapter/guard set updated for easier maintenance, enhanced work area, effortless guard removal and installation.
Safer cage-less guard design.
BC-Series features impeller retainer.
BP-Series features threaded impeller nut
Pumps can be sold as a wet end only, complete motor pump unit and mounted on a cart.
100% CIP-able.
Factory stock on all sizes and complete units can ship in 2-5 days ARO.
BC/BP Pump Applications
Beverage: Juice, water, liquor, specialty drinks, etc.
Dairy: Milk, cheese, ice cream, yogurt, butter, etc.
Oils
Water
Vinegar
Cosmetics
CIP Solutions
Contact Us for BC/BP Centrifugal Sanitary Pumps