Custom Stainless Steel Spool Pieces for a Chemical Manufacturer
Posted on Thursday, May 7, 2020 in Fabrication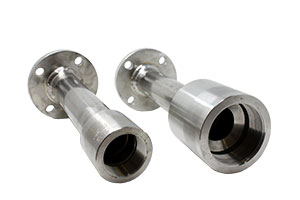 Custom Fabrication Case Study: Stainless Steel Spool Pieces
A major chemical company relies on trains to transport their product. The chemicals they produce can be especially tough on the parts used in their transfer. When the yard staff noticed that the spool piece used to connect the tanker car to the terminal was being quickly eaten through by acid, they turned to Cooney Brothers for a solution.
Upon visiting the customer site, the Cooney sales rep evaluated the failing item currently in use and determined the wall of the stainless steel pipe was too thin for the application. After discussing several options with the customer, he recommended a custom welded solution that would hold up best to their harsh application.
In coordination with our inside sales manager and on-site fabrication shop, we created two types of tank adapters for the customer. Using Schedule 80 stainless pipe, which has a thicker wall, our shop made the weld to the flange extra thick with deep penetration to provide better integrity of the fitting and welds. The customer was very pleased with the results of the new fabricated pieces in service, describing them as very rugged, and that "we couldn't have asked for anything better."
Have an unusual project or application where off-the-shelf item just won't do? Contact the custom fabrication experts at Cooney Brothers. We'll be happy to assist from consultation to design, delivering solutions quickly that meet your company's unique needs. Visit Custom Fabrication Center to see our full capabilities and to contact us today.