Custom Stainless Steel Hose Assemblies for University Hospital
Posted on Tuesday, Oct 29, 2019 in Fabrication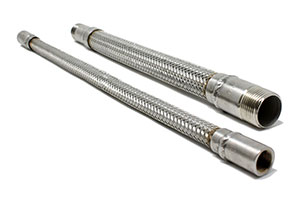 Custom Fabrication Case Study: Stainless Steel Hose Assembly
Staff responsible for maintaining operations at hospitals have a critical mission. Patients' lives depend on facilities equipment to be on-line and fully functional. When the engineering staff at a major university hospital in Philadelphia, PA noticed a line leaking oil, they knew they had to act fast.
They called their Cooney Brothers account manager who arrived on site and inspected the failing boiler hose. After taking careful measurements of the lines, he realized that this was not a standard item, as the two end connections were different sizes.
Working with our inside sales manager and fabrication team, our experts designed three custom stainless steel hose assemblies to meet their needs. Each custom hose was a different length, ranging from 15" to 30", and two of the hoses required different size connections, with a ¾" male nipple on one end a 1" male nipple on the other. With a fabrication shop on site, our professional welder was able to create these custom hose assemblies quickly, allowing the hospital's boiler to be fully functional once again.
Have an unusual project or application where off-the-shelf item just won't do? Contact the custom fabrication experts at Cooney Brothers. We'll be happy to assist from consultation to design, delivering solutions quickly that meet your company's unique needs. Visit Custom Fabrication Center to see our full capabilities and to contact us today.