Spirax EasiHeat DHW with S.I.M.S. technology
The Spirax EasiHeat™ DHW incorporating S.I.M.S technology is a complete, compact and energy efficient heat transfer solution, that will deliver a constant supply of hot water at a stable temperature on demand - even with sudden and wide load changes – for a full range of domestic and process hot water applications up to 4 million BTU's. 
Of all the costs your organization is able to control, your energy bill is probably amongst the most significant. Which is why, with fuel prices on the rise, it is more important than ever to improve the energy performance of your plant. The Spirax EasiHeat™ DHW incorporating S.I.M.S technology is a compact heat transfer package with a series of optional modules that can not only help you make valuable savings, but can also tackle waste, reduce your environmental impact and make a positive change towards a more sustainable future.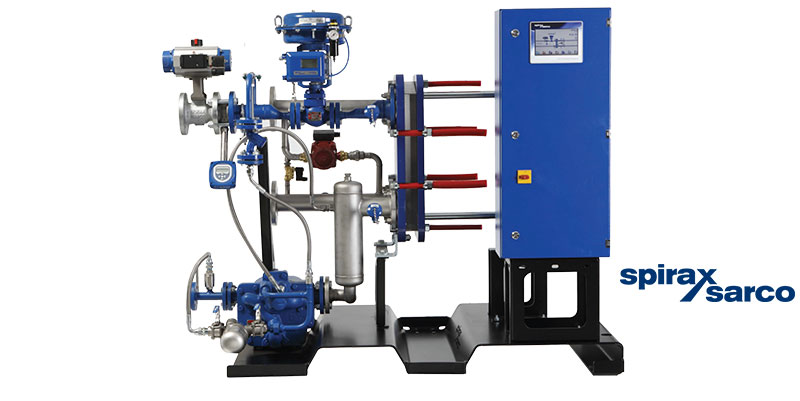 • As the world's leading authority on steam system engineering, we precisely size all of the unit's components to ensure accurate control and responsiveness under all load conditions. This helps to drive optimum performance, so you can heat the same amount of water for less cost by ensuring none of the energy available in the steam goes to waste. 
• Providing hot water on demand eliminates the need for storage, removing a possible breeding ground for Legionella bacteria, whilst also reducing radiated energy losses, and lowering your total life cycle cost. 
• Accurate and reliable monitoring and measuring of your hot water systems, is provided by our new innovative control system incorporating S.I.M.S technology (Spirax Intelligent Monitoring System). With its 7" colour touch screen you have complete and easy access to the data required to understand how and where you use your energy, leading to more informed energy management decisions and increased efficiency.
Benefits:
• Energy efficient – helps reduce costs and reduces CO2 emissions. 
• Hot water on demand without storage – reducing energy losses and risk of Legionella growth. 
• S.I.M.S technology - Intelligent control logic and monitoring to help improve efficiency. 
• Compact – core unit occupies only 42 ft3 , up to 160 ft3 for the largest output unit.
Spirax EasiHeat DHW Benefits
No Waste Design
Optimized design for low energy consumption and efficient use of steam.
Compact Design
Reduces radiated energy losses. Fits through standard doorway and saves floor space.
Touch Screen Control
Easy to use with clear visual access to all system parameters. Optional access to energy consumption data is available.
Unique Spirax Intelligent Control
High quality low maintenance components. Intelligent control, increasing energy efficiency. Low cost of ownership.
Pre-Assembled and Tested Unit
Minimal installation time, trouble free commissioning and single source of supply.
Precisely Matched Controls
Safe, performance and guaranteed operation. accurate control and responsiveness under all load conditions. No need for storage or buffer tank, reducing risk of Legionella.
Communications
Easy integration with on-site building management systems. E-mail and SMS messaging of system performance and alarms reducing maintenance. Remote access to control unit via the internet.
Contact Us for Spirax EasiHeat DHW Units